Remembering

Teddy Petty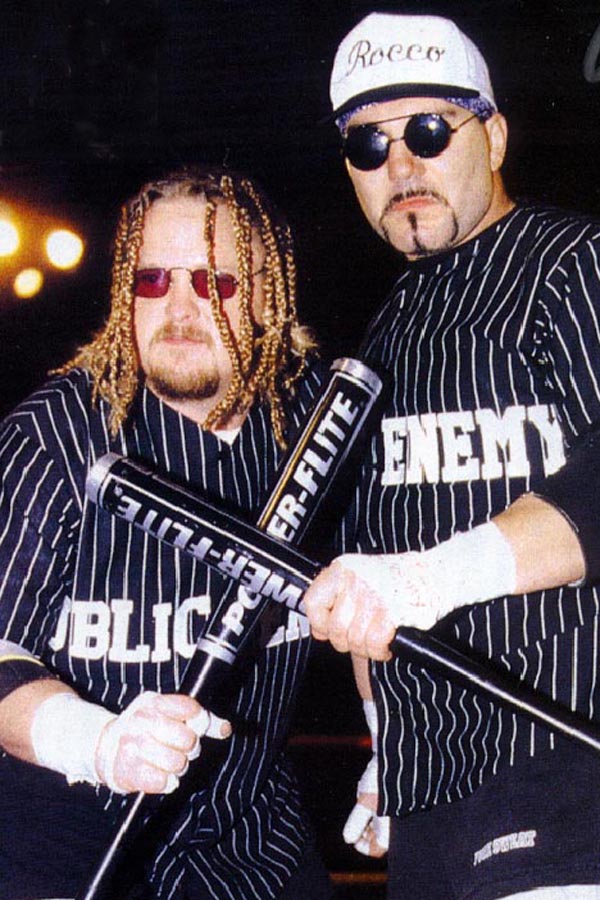 September 1, 1952~September 21,2002
&nbsp
The Whole Wrestling World was in total Shock on Saturday, September 21, 2002 when We Heard The Passing Death of Professional Wrestling Superstar Ted Petty. Teddy Died on the New Jersey Turnpike en-route to A 3PW show at the ECW arena in Philadelphia. Ted was scheduled to face Gary Wolfe for the heavyweight championship. He had just left a show after wrestling Chris Ford AKA. Crowbar in Elizabeth, NJ. He Suffered a Major Heart Attack in his car and then died Momements latter alongside his girlfriend Jeane "Sweet Destiney" Durso and his Father, at the age of 50. A Very Tragic Ending For a Very Wonderful Person who touched many Lives.
Most people (fans) Knew Teddy as "Flyboy" Rocco Rock, one half of the Tag-Team Public Enemy. Earlier in his Career, Petty was known at The Cheetah Kid, and one - half of the Tag-Team, Komodo Dragons. Teddy lived a great life. He spent most of it doing what he loved - Wrestling. Teddy's Passion for the Business was Second-to-None. His knowledge and expereince gave him the ability to outperform and outdo many of his peers. At the age of 50, (an age that is often considered ancient in this business), Teddy was at the top of his game performing aerial moves and smashing his body through tables. He was able to keep up with guys half his age and still come out on top. His Skills were as sharp as a razor blade and his moves were breathtaking. Teddy was one of the Major innovators of the business. First, as the Cheetah Kid in the Indy promotions, Teddy performed aerial moves that were unseen in the United States. His tours in Japan and Mexico gave was where he learned the stunts such as sommersault planchas and Asaai moonsaults. Teddy was not the largest guy in the business, nor was he the smallest, which gave him the ability to excecute high-risk and power manuevers. While working the Independents in Dennis Galamb's Woodbridge, NJ based Universal Wrestling Alliance, UWA, Teddy Met A Young Guy from Louisiana who was eager to learn the trade. Teddy took him under his wing and showed him the ropes. This man was Mike Durham, going by the name - Johnny Rotten. Johnny Rotten's first persona was a pretty boy-bad ass. To get himself over with the fans, Johnny was accompanied to the ring by the Barbie girls, a group of very good looking model-like girls in their 20's. Johnny and Teddy Formed a partneship and formed the Tag-Team The Public Enemy. Teddy's character was "flyboy" Rocco Rock while Johnny Rotten was now known as Johnny Grunge. Public Enemy were two Hoodie Gangsta Thugs from the streets of Compton and latter, South Philly. The two were called by Paul Heyman, Tod Gordon, and Kevin Sullivan to work for their new wrestling promotion NWA Eastern Championship Wrestling. In ECW (latter renamed Extreme Championship Wrestling) Public Enemy faced some of the biggest stars in the world - Chris Beniot, Taz, Sabu, Arn Anderson, Dean Malenko, Mick Foley (Cactus Jack), Terry Funk, Tommy Dreamer, Raven, Shane Douglas, New Jack, the Dudley Boyz etc. ECW was a Very small Company. At first, it was held in a former bingo Hall in South Philadelphia. Its weekly program was shown only in the Pennsylvania, NY/NJ area on local access television. At the time, the two dominant wrestling promotions, WWF & WCW were family-oriented shows. ECW was a violent environment that often involved wrestlers brawling and using weapons on each other. Teddy was still using his high-flying techniques, but added with a twist. Public Enemy became the first wrestlers to use tables in and out of the ring. Johnny would hold an opponent down on top of a table, while Rocco jumped off the top rope smashing the helpless victim through a table. This often happened in the ring, or off a balcony in the ECW Arena. Teddy and Johnny became brawlers in ECW (along with Everyone Else). They had some of the sickest matches of all time. Barbed Wire Matches, Steel Cage Matches, Dog Collar Matches, Baseball Bat Matches, Table Matches, ETC. They used weapons such as frying pans, steel chairs, chains, glass bottles, and even fire. None of these weapons were "gimmicked" like you see in supposed hardcore matches now. They were the real thing. Probably the craziest thing to happen in ECW was when Public Enemy fought the Funks and the whole crowd threw steel chairs in the ring covering Teddy in Johnny! Another moment was when Teddy was dog collared by his ankle and thrown off a balcony to hang! As The Public Enemy's Popularity grew, so did ECW. ECW was now being held on larger venues in different states. Teddy & Johnny soon became four-time ECW tag-team champions. They're trademarked hand-waiving went along with their entrance music "Mr.Highstepper" as Teddy Break-Danced! The Promos that these guys performed were simply outragous. Who can forget when they broke into Terry Funk's barn (which was really Teddy's farm) and tagged it up with spray-paint. Or the time they stole Paul E. Heyman's Limousine at a press conference. Another great moment was when they were training Mikey Whipwreck in Central Park, NY. Rocco left to get "supplies", while Johnny's idea was for Mikey to run up a ladder to fetch beer and bring it down for Johnny to drink it! Hilarious. Public Enemy Provided the funniest humour, but along with pure Violence. Their Motto was "Naughty by Nature, Violent by Design" and were nicknamed "The Mack Daddies of Violence". One of the strongest promos they did was when they claimed that they were the First Generation of American Children who were more afraid of living than Dying. They had the biggest fan reaction in ECW history. The WWF and WCW were starting to notice this "new" up-and-coming promotion and saw the fans were attracted to it. In 1995, Both WCW and the WWF oferred Teddy and Johnny large sum contracts to perform for three years. Teddy and Johnny chose to sign with WCW for three years. ECW's Most Popular stars were now headed to Turnerland. The Day Public Enemy were supposed to debut on WCW Nitro (January 22, 1996), The Northeast was rocked by a huge blizzard. They were unable to fly to Atlanta, Ga. However, the following week, Public Enemy arrived in Miami, Fl to make their debut against Buff Bagwell & Scotty Riggs. They destroyed the American Males. In their three year stint, Public Enemy had many feuds with the Nasty Boys, Harlem Heat, the Steiners, Hall & Nash. Teddy And Johnny became Tag-Team Champions on September 9, 1996. Their WCW contracts ended in 1999 and they signed with Vince McMahon's WWF, which was much more popular. Upon entering the WWf, Public enemy Immediatlly began a program with Edge & Christian. Public Enemy had Major potential in the new "Attitude" era of the WWF. Unfortunatelly, Their was some high-up management in the WWF that did not care for Teddy and Johnny. They tried to make Teddy & Johnny's WWF Careers misserable. A few months after they signed, Teddy and Johnny were released. After that, Public Enemy returned to short stints in ECW and WCW. They worked for many new independent start-ups including - XPW, WWA, XWF. The wresttling world changed in late 2000, early 2001 as the once "little engine that could" (AND DID) ECW went Bankrupt and the Mighty WCW went out of business and was bought by the WWF. Toward the end of his career, Teddy, with Johnny wrestled together as Rocco Rock and Johnny Grunge. Teddy had no plans on hanging up the boots. Even with several businesses outside the wrestling world, Teddy loved to Wrestle. It was his livelyhood. He was such a professional, that he sometimes felt bad when he had to cut a negative promo on a company he used to work for.
Theodore James Petty began his career as a Welder, building and setting up rings for Wrestling and Boxing Shows. He was Originally a Boxer in the welterweight division. He used to spar with many champions. He entered the Legendary Afa the Wild Samoan's wrestling school and learned wrestling. He also had some training at Larry Sharpe's Monster Factory wrestling School. His Relationship with Afa was life-long. once you are a student of Afa, you become one of "Pop's" kids. Teddy Graduated from Middlesex County College, NJ and received a Bachelor's Degree in Health/Nutrition from Rutgers College in 1977 and earned a Masters in Physical Education at Trenton State (the College of New Jersey). While in College, Petty Excelled in Sports, mainlly Greco-Roman Wrestling. He became a trainer for Rutgers and Trenton State.
It is always a shame when you hear of A person That Died You Knew. It is even more of a shame when the person was as special and imporant to so many people like Teddy. To die at 50 Years old is too young for any Man or Woman. But Teddy did so Much in his life. His Travels took him All over the World. Europe, Australia, Japan, China, The Middle East, Russia. Teddy seemed like a rough and tough guy (legitametlly he was one of the toughest in the Locker room), but was one of the nicest, sweetest guys you can ever meet. He gave advice to those he thought needed it. Teddy was a Pure athlete. In a day and age when you hear that so many individuals in sports are taking substances, Teddy did Not. He Did not Smoke, Drink, or Take drugs. He did not use Steroids. His family has a long History of Cardiovascular ailments.